Living a Non-Ascetic Life
---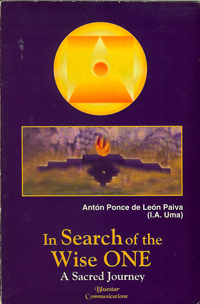 It is considered a noble path when a theistic believer, a divot follower of ordained principles and doctrine leads an ascetic life. The way of the ascetic believer can be seen as an honorable life path. However, the way of an ascended master should not be limited to a single viewpoint for it stifles expansive spiritual growth and awareness. The kind of spiritual growth and awareness needed to transcend the illusions of human consciousness.
The truth seeker is someone who knows there is no limit to the expansive creativity of a mind united with the single source of esoteric wisdom. Antón Ponce de León is this kind of seeker. In his book, In Search of the Wise One: A Sacred Journey he takes the reader on a four-day voyage where he reunites with Amaru Cusiyupanqui a fellow brother of the solar brotherhood. The spiritual journey he embarks upon with Amaru is a continuation of the search he began in his first book entitled The Wisdom of the Ancient One: An Inca Initiation. Read the book review Discovering Universal Truth.
The First Day
The first day began abruptly. Antón met up with Amaru at the future site for the orphanage he was to build and operate – Samana Wasi. Immediately Amaru began reminding Antón about man's origin and his true spiritual essence. Before Antón could accomplish his task of building Samana Wasi he would need to be reminded, educated and prepared to receive the knowledge and expansive esoteric wisdom that has been ignored since the beginning of time.
The reader is given the opportunity to join Antón in his learning quest. It is a golden opportunity to learn of our inheritance and cosmic origin from a true master. The first day is packed full of insights that clearly and succinctly describes man's creative-evolutionary beginning. A beginning that has no ending. A tiny glimpse into the expansive knowledge of creative esoteric wisdom is the beginning of the reader's induction to learn more about our true destiny. What an extraordinary and exciting adventure!
The Second Day
The second day began with an ancient initiation with a small group of wise Ancient Ones. They had come to Urubama specifically to assist Amaru and to help Antón with cleansing his mind and body in preparation for his life's work with Samana Wasi and to be ready to receive ancient wisdom and knowledge.
During the initiation, Antón learned more about his own innate mental errors. He quickly learned that his own internal mental errors were rooted in human ego and required correction in preparation for the self-less service leadership role he was to hold to empower and enable children and elderly persons who would come to live with him at Samana Wasi.
As the day went on, Amaru explained that the true ascended master must learn to develop and hone his or her superconscious faculties to step into his or her true greatness by living in action each day and throughout the day. Amaru stated, "if we desire to grow, we urgently need honesty, honor and cleanliness in action." The power of manifested wisdom emerges out of a person's willingness to accept that he or she does not know thereby attracting the true essence of higher spiritual awareness and inspiration.
The Third Day
The third day took Antón deeper into his initiation. He continued to receive profound insights into the origin of man and his role in the creation of life. He also learned that a person must learn to actively channel and connect with his or her higher self in order to manifest wisdom creatively as a part of the process of life.
Learning to think with discipline through prayer and mediation is the correct way to manifest; but only through service toward everyone. Commitment, devotion, authenticity, humility and love are the underpinning traits of a mind reunited with its higher true essence. Curiosity leads Antón and the reader to more profound ancient wisdom that exposes the truth about the creative-evolutionary role we plan in the grand scheme of the universe.
The Fourth Day
The fourth day concluded with Amaru clearly explaining the distinctions between mind, consciousness, soul, and spirit. He reminded Antón that each person must learn to master his or her own thoughts and feelings so that they can expand the spiritual gifts that are hidden deep within. The reader also learns of the future of the planet and the new age illumination that is emerging as well as the role we must play in the transformative process that is destined for our next level of greatness.
Now is the time to be at cause and not effect in our lives. Our future depends on our willingness to step outside the familiar ways of science and technology to embrace a new way of living, being and illumination that will cause each of us to live inside a whole new realm of possibility.
---
About the Book
This book was first published in English in 1996 following the first book "The Wisdom of the Ancient One: An Inca Initiation," which was written in 1995 and has been translated into 10 different languages. This present book discusses Andean spirituality, cosmic vision, and the role each of use must play in the process of spiritual healing that must happened on a personal and global scale.
Interested members may visit the Amazon.com link below purchase this book.
In Search of the Wise One: A Sacred Journey
The book is also available in Spanish directly from Samana Wasi.
---
About the Author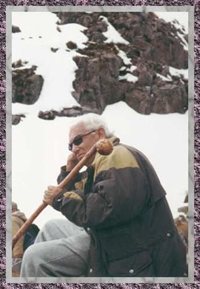 Antón Ponce de León is the co-founder of Samana Wasi, an internationally renowned author, lecturer, metaphysician, and spiritual therapist. Some of his other books include: Wisdom of the Ancient One: An Inca Initiation, The Ancient One at the Sacred Lake, and Drawing the Veil of the Visible Darkness.
Antón was born in the township of Urabamba (near Cusco), Peru. He majored in Agronomy at La Plata University in Argentina and finished his studies at the Monastic University of Moravia, in Peru.
He worked as General Manager of Panamericana Television in Cusco, for 16 years. He also served as a councilman for the Mayor's Office in Cusco until 1984, when he devoted his life to philanthropic service.
In 1989, he opened the Samana Wasi Center together with his wife Regia Astete Victoria, making it a home and real family for abandoned children and elders in Peru. His life philosophy and spiritually is rooted in Andean CosmoVision.