Discovering Universal Truth
---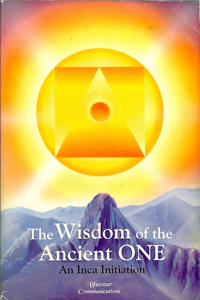 For all who have ever wondered about their true purpose or mission in life seeking deeper answers about life and its destinations; or for all who have continuously searched for the truth and their true identity, The Wisdom of the Ancient One: An Inca Initiation is a book you must read.
The Wisdom of The Ancient One tells us the story of the author's initiation in the Andean tradition. Antón narrates his story with vivid and fascinating experiences that makes you be a part of this wonderful and spiritual journey.
Antón was only 7 seven years old when he lived an experience that would mark him forever. His first and unforgettable encounter with Yupanqui Puma, descendant of Tupac Inca Yupanqui, tenth Inca of the second Dynasty happened at the day of his funeral. There had been rumors that he was somewhere between 130 to 140 years old. He was the wisest Andean master and the highest spiritual leader. Antón learned that day that Yupanqui Puma was gone and therefore was free. He saw his spirit. He saw his light. It was an experience he would keep with him all his life. He understood then that Yupanqui's departure was from a man completely conscious of reality and already pursuing his new mission.
After reading Antón's past history I remained delighted. What a great honor for me to have met Yupanqui Puma through Antón! I was curious of his next adventure. His search of finding answers to his true identity was now my own search. For in it I felt a similar calling. One that burns deep within my soul. But the great discovery was yet to happen. Antón had to wait 30 more years to finally discover what he had been searching for all those years: his initiation. He was about to know the Great Truth and the Great Cause his father always talk about.
It all happened when he met one of the main characters in the book: Nina Soncco. Nina Soncco was an old, wise and extraordinary man that taught Antón the best lessons of his life. Nina's mere presence inspired respect and love. It was not until the moment they meet, that Antón knew his opportunity had arrived. During his initiation, there were seven days of teachings, lessons and growth. Seven is a sacred number that manifests in everything it transcends. He matured and learned many valuable lessons like not to prejudge and act with humility. He learned also that we came over here to be happy despite our problems, defects and difficulties and we must believe that our experiences are for our learning and growth. He understood the meaning of human consciousness and to desire awakening. He was also taught about reincarnation. It is during this section of the book that the author gives you many examples of past lives that really capture your attention.
Other lessons were apart of his initiation adventure such as knowledge of the expanding universe and its connection with mankind. The reader also learns who we are on a deeper spiritual level, what life is all about and what to expect from life. It was during this process that Antón accepted with humility and devotion a visionary task to be bestowed upon him. This task would require that he create a physical, psychological, and spiritual healing center and orphanage to be dedicated to the most needy children and elderly persons in Peru. This placed was to be called Samana Wasi.
I enjoyed reading this book. My favorite part of the book happened on the seventh day – the day of his initiation. The author showed his talent describing every single detail that happened on the last day including the ritual and his welcome to the community Children of The Sun. The author makes a wonderful descriptive narration of the places this story takes place. I felt like riding a horse through beautiful lakes, small valleys and several rivers while reading this book. I caught myself smelling the air perfumed with draughts of roses and broom flowers from the gardens Antón talked about in the book. The relationship Antón had with his father was beyond words.
---
About the Book
This book was first published in English in 1995 and has been translated into 10 different languages. In this 118-page book, you will learn how the Inca initiation works, Andean Mythology, Andean Pre-Hispanic cosmogony, Inca Royalty, and the Quechua tradition. Personally I have learned these ancient principles and more. I have learned that I should enjoy life in spite of its sorrows and limitations. Life is the highest expressions of existence so we must convert sadness into joy and bad into good!
Antón's words reassures us of the immense power that exists within each of us. I was touched, moved and inspired to live my life with complete love and enthusiasm. As the master would say "every day should be a celebration."
Interested members may visit the Amazon.com link below to purchase this book.
The Wisdom of the Ancient One: An Inca Initiation
The book is also available in Spanish directly from Samana Wasi.
---
About the Author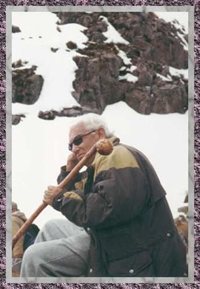 Antón Ponce de León is the co-founder of Samana Wasi, an internationally renowned author, lecturer, metaphysician, and spiritual therapist. Some of his other books include: Wisdom of the Ancient One: An Inca Initiation, The Ancient One at the Sacred Lake, and Drawing the Veil of the Visible Darkness.
Antón was born in the township of Urabamba (near Cusco), Peru. He majored in Agronomy at La Plata University in Argentina and finished his studies at the Monastic University of Moravia, in Peru.
He worked as General Manager of Panamericana Television in Cusco, for 16 years. He also served as a councilman for the Mayor's Office in Cusco until 1984, when he devoted his life to philanthropic service.
In 1989, he opened the Samana Wasi Center together with his wife Regia Astete Victoria, making it a home and real family for abandoned children and elders in Peru. His life philosophy and spiritually is rooted in Andean CosmoVision.